| | |
| --- | --- |
| | Special thanks to Jim Hunt of Springdale fire and ambulance, springdale fire department, Arizona for facilitating the shipment of 12 full composite scott airpak tanks to be used as spare tanks. |
---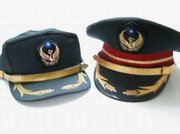 a i r c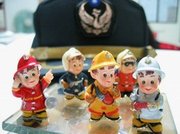 TAIWAN MIAOLI COUNTY FIRE BUREAU, TAIWAN, Republic Of China
---



John Travolta sent a Photo card with signature of Ladder49
---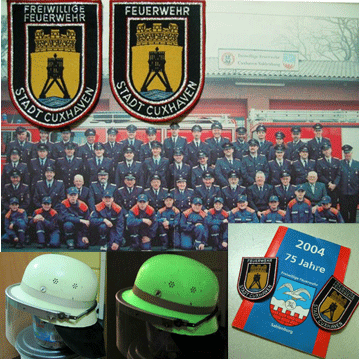 Glow in the dark Fire Helmet
www.feuerwehr-hamburg.de
---

-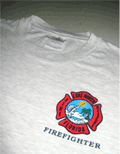 Palm Beach County Fire Rescue
Lake Worth City
---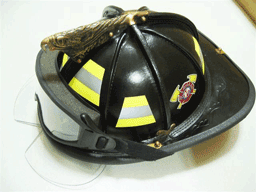 Paul Conway American Heritage
Traditional Leather Helmet
Model - LFH 4120, This helmet runs around US$410
from: Shane Wessinger
Newberry City, South Carolina, USA
---
-
David Hirschberg
Company of Colerain Township Department of Fire & EMS
Cincinnati, Ohio, USA
---

Don Vessey
Minneapolis Fire Department, Fire Rescue & EMT
Plymouth City, Minnesota, USA
---
Fed Fire Fundraiser . . . A SMASH HIT
Federation Fire held the advance screening of the movie Ladder 49 at SM City Iloilo Cinema 6 on October 29, 2004 as a fundraiser for this year. It proved to be a huge success with tons of support pouring in from generous sponsors, loyal friends and families.
Hence, we would like to extend our heartfelt gratitude to all of you who helped made this endeavor a great success. To our FELLOW FIREFIGHTERS, FAMILIES, FRIENDS AND MOST ESPECIALLY OUR SPONSORS, THANK YOU SO MUCH FOR THE SUPPORT YOU'VE EXTENDED TO US. May this be not the last endeavor we're going to win as we continue to serve the Ilonggos as we have done so for 35 years.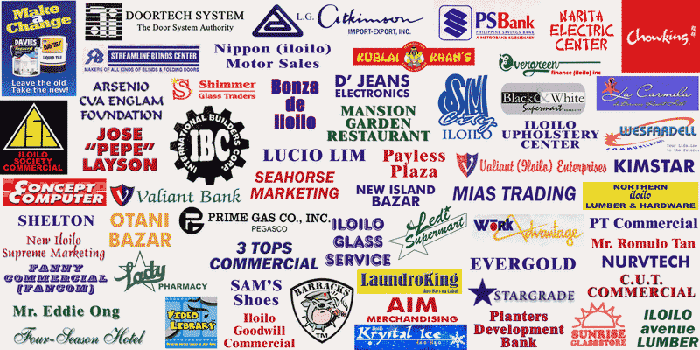 ---

G.D.Luxembourg - Europe
Brice Tavernier
05/26/04
---

.

DICK KUYKENDALL
NAPA FIREFIGHTERS MUSEUM
1201 Main Street
Napa, CA 94559
---
Legacy Of Courage Firefighters Maltese Cross Collectible Sculpture

.

.
.

Authenticity Limited Edition No. A5075
Issued to:
LEI "108" TAN
FEDERATION ILOILO FIRE BRIGADE
ILOILO CITY, PHILIPPINES
Honor Firefighters with Sparkling Maltese Cross Collectible Figurine! Dazzling Limited Edition with Custom Base!
- The Maltese Cross - its origin is fascinating, its legacy enduring. For centuries, since it first appeared on the battlefields of the 11th and 12th-century Crusades, it has been every firefighter's badge of honor, a revered symbol of bravery, protection of the weak, and loyalty. Now, this unique limited edition exclusively from The Bradford Exchange portrays the Maltese Cross in a sparkling crystalline sculpture!
---
NY FIRE 911 MEMORIAL PATCH HELMET DECALS
Larry Fox
Valley Stream, FDNY 911
---

.

Lillian Fire Rescue, Alabama
Andrew J. Gnoza, III
Explosive Safety & HazMat Consultant
Explosive Ordnance Disposal Consultant
Weapons of Mass Destruction Instructor
---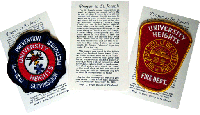 Prayer cards and a couple of patches
RICHARD J. KOSMERL, retired 37 1/2 yrs.
UNIVERSITY HEIGHTS FIRE DEPARTMENT, OHIO, U.S.A.